Achievion Solutions is proud to announce its inclusion in the coveted Top AI Development Companies list for 2023 by Techreviewer.co, a leading information technology and services review platform.
This recognition is a testament to Achievion's commitment to pushing the boundaries of Artificial Intelligence (AI) and Machine Learning technologies to deliver innovative solutions to its clients worldwide.
Being included in Techreviewer's prestigious list puts Achievion among the most effective and innovative companies in the AI technology industry. This year's list was compiled after a comprehensive evaluation of companies' market presence, client satisfaction, versatility in technology application, and demonstrated quality of solutions.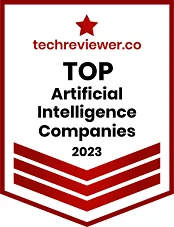 As an industry leader, Achievion has proven its mettle time and again with its ability to create custom AI solutions tailored to unique business needs. Our team of professionals is highly skilled and dedicated, bringing vast knowledge and technical expertise to our projects.
This accolade by Techreviewer.co not only recognizes Achievion's technical prowess but also its dedication to customer satisfaction. As we continue to explore and harness the potential of AI technology, we remain committed to delivering top-notch solutions to our clients that drive real business impact.
Being part of the Top 100 AI Development Companies list will undoubtedly bolster Achievion's continued growth trajectory. We express our deepest gratitude to our clients for their trust and partnership, and to our talented team for their hard work and dedication.
About Achievion Solutions
Achievion Solutions is a leading AI development company headquartered in McLean, VA. Our mission is to help organizations transform their business through cutting-edge AI solutions. We strive to stay at the forefront of AI technology and development, ensuring our clients receive the most innovative and effective solutions to meet their needs.
About Techreviewer.co
Techreviewer.co is an authoritative online hub that researches and analyzes the best IT companies from around the world. They rank companies based on their service lines, client feedback, and market presence. Their lists are trusted within the industry and serve as a guide for businesses seeking reliable IT partners.